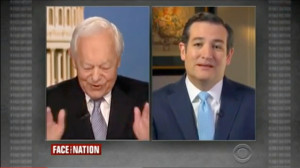 This week's Glazov Gang was joined by Ann-Marie Murrell, the National Director of PolitiChicks.tv, Dwight Schultz, a Hollywood Actor, and Tommi Trudeau, the Producer of "Groovy Foods."
The Gang gathered to discuss CBS Edits Out Cruz's Criticism of Obama. The discussion occurred in Part I and analyzed the troubling and eerie workings of our "media."
The episode also analyzed Lies of the State of the Union, Al-Qaeda's Commands to Morsi, Malik Obama's Terrorist Scarf, Hillary "Regrets" Benghazi and much, much more.
Watch both parts of the two-part episode below:
Part I:
Part II:
To watch previous Glazov Gang episodes, Click here.
To sign up for The Glazov Gang: Click here.