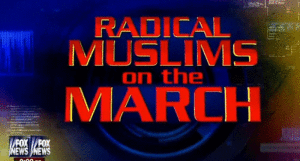 Last Friday night, Hannity's Expert Audience Panel tackled the issue of "Radical Muslims on the March." Frontpage Editor Jamie Glazov appeared on the panel and went toe-to-toe with Muslim commentator Mike Ghouse on whether Islam is a problem in the terror war. [32:00 mark].
Jamie also defended Pamela Geller and Brigitte Gabriel from the slanders against them and called them heroes. [11:45 mark] Don't miss it! And if you have time, watch the whole episode below!
Freedom Center pamphlets now available on Kindle: Click here.
Subscribe to Frontpage's TV show, The Glazov Gang, and LIKE it on Facebook.