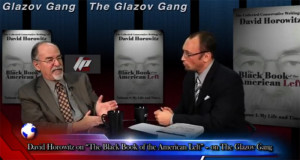 [To order The Black Book of the American Left, Volume I – My Life and Times, click here.]
On this week's special edition of The Glazov Gang, the President of the Freedom Center, David Horowitz, came on the show to discuss his new collection of conservative writings, "The Black Book of the American Left, Volume I: My Life and Times."
David discusses his personal and intellectual journey out of the Left, his experience with the Black Panthers, the Left's morbid objectives and its sinister tactics of perpetually camouflaging them, what Conservatives need to do to defend America, who Obama really is, and much, much more.
Watch both parts of this special two-part series below:
Part I:
Part II:
To watch previous Glazov Gang episodes, Click here.
To sign up for The Glazov Gang: Click here.