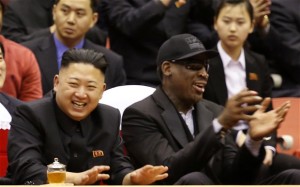 This week's special edition of The Glazov Gang was hosted by Superstar Ann-Marie Murrell and joined by Titans Morgan Brittany, Dwight Schultz and Michael Chandler.
The Gang gathered to discuss Dennis Rodman's Kim Jong-Un Romance. The dialogue occurred in Part II (starting at the 11:20 mark) and shed light on the bizarre and twisted world of a new political romance. The discussion was preceded by a focus on the ongoing ObamaCare Meltdown.
Part I dealt with Obama and The Muslim Brotherhood, The NY Times' Benghazi Myths and A Day in the Life of Saeed Abedini.
Don't miss both parts of this Blockbuster 2-part episode below:
Part I:
Part II:
To watch previous Glazov Gang episodes, Click here.
To sign up for The Glazov Gang: Click here.