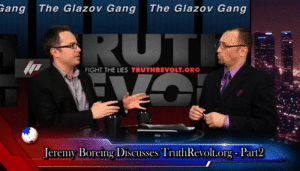 The Glazov Gang was joined this week by Jeremy Boreing, the Executive Director of Friends of Abe and the Managing Editor of TruthRevolt.org, the new conservative media watchdog group started by Ben Shapiro with David Horowitz at the David Horowitz Freedom Center.
Jeremy discussed TruthRevolt.org, the important vacuum that it fills in the culture war, and all of the new organization's efforts. He also talked about his recent film, The Arroyo, which is a modern western that follows one man's struggle against the lawlessness on America's southern border.
See both parts of this two-part series below:
Part I:
Part II:
To watch previous Glazov Gang episodes, Click here.
To sign up for The Glazov Gang: Click here.