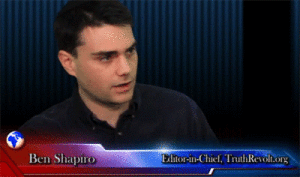 This week's special editon of The Glazov Gang was joined by Ben Shapiro, the Editor-in-Chief of TruthRevolt.org, Elisha Krauss, Morning Co-Host at KRLA AM 870 The Answer and a staff writer at TruthRevolt.org, and Jeremy Boreing,the Managing Editor of TruthRevolt.org,
The Gang gathered to discuss how Ben recently crashed the UCLA Divestment from Israel Hearing to blast both the student sponsors and those considering the anti-Semitic measure. The panel also discussed How Conservatives Can Best Fight Political War, Pierce Morgan's Ratings Tanked After Being Eviscerated By Shapiro, UN Ambassador Samantha Power's Jew-Hatred, and much, much more.
Watch the two-part series below:
Part I:
Part II:
To watch previous Glazov Gang episodes, Click here.
To sign up for The Glazov Gang: Click here.