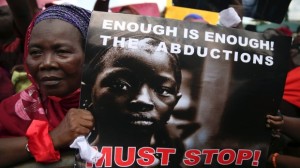 [Subscribe to The Glazov Gang and LIKE it on Facebook.]
This week's Glazov Gang was joined by Dr. Mark Durie, a theologian, human rights activist, pastor of an Anglican church, and an Associate Fellow at the Middle East Forum.
Dr. Durie joined the show to discuss Boko Haram's kidnapping of 276 schoolgirls in Nigeria and the Islamic roots of that barbaric act. He shed light on the Islamic theology that inspires and sanctions Muslims to enslave and rape kafir women.
He also analyzed Islam-Denial in our culture, the subjects of abrogation and taqiyya, the forces that brought him into this battle, and much, much more.
Don't miss it:
Don't miss Frontpage's second episode this week with Phyllis Chesler, an Emerita Professor of Psychology and Women's Studies at City University of New York, best-selling author, legendary feminist leader, Fellow at the Middle East Forum and the author of 15 books. She is the author of her new memoir, An American Bride in Kabul.
Dr. Chesler joined the program to discuss her memoir and all of its ingredients, including being trapped in Afghanistan as a young bride, her terrifying experiences under Islamic Gender Apartheid, her views on the burqa and on how the feminist Left has betrayed Muslim women, her main message, and much, much more:
To watch previous Glazov Gang episodes, Click Here.