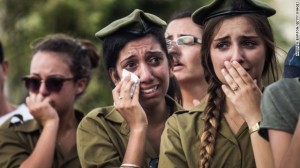 [Subscribe to The Glazov Gang and LIKE it on Facebook.]
This week's Glazov Gang was joined by Dr. Anna Geifman,a scholar who has taught in the History Dept. at Boston University for over 20 years and is now senior researcher at the Dept. of Political Studies at the University of Bar Ilan in Israel. Her latest book is Death Orders: The Vanguard of Modern Terrorism in Revolutionary Russia.
Dr. Geifman joined the show to discuss Life in Israel Under Siege, sharing life in Jerusalem during a state of war — and what it means to confront a death cult. She also discusses Why Death Cultures Target Children, Why The World Must Accept the Reality of Good and Evil, Similarities Between Bolshevik Terror and Hamas, and much, much more:

Don't miss this week's second episode with Robert Spencer, the director of Jihad Watch, a program of the David Horowitz Freedom Center, and the author of thirteen books, including two New York Times bestsellers, The Truth About Muhammad and The Politically Incorrect Guide to Islam (and the Crusades). His latest book is Arab Winter Comes to America: The Truth About the War We're In.
Robert joined the show to discuss Arab Winter Comes to America, analyzing the threat of Islamic Jihad and the West's denial about it. He shed light on ISIS's Islamic Inspirations, How Jihad Denial Enables Jihad, Why Jihadists are Welcome in the UK But Not Robert Spencer and Pamela Geller, and much, much more.
Don't miss it!
To watch previous Glazov Gang episodes, Click Here.