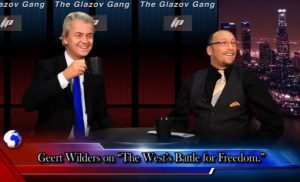 [Subscribe to The Glazov Gang and LIKE it on Facebook.]
This year's Glazov Gang 2014 Episode of the Year Award goes to two special episodes — each of them joined by a stellar titan who is on the front-lines of the culture and terror war courageously defending our civilization's freedom.
One of the winning episodes was with Geert Wilders, the founder and leader of the "Party for Freedom" — which is currently the fourth-largest party in the Dutch parliament. Mr. Wilders is best known for his brave stance against, and truth-telling about, Islam. He is the author of Marked for Death: Islam's War Against the West and Me.
We are honored to present the episode, "The West's Battle For Freedom," below. We will run the other Glazov Gang 2014 episode award winner in our next issue.
The Glazov Gang team also extends special thanks to all of our guests, viewers and supporters and wishes all of them a happy, healthy and successful new year.
And don't miss Jamie Glazov's introduction of Geert Wilders at the Freedom Center's 2014 Restoration Weekend:
To watch previous Glazov Gang episodes, Click Here.
LIKE Jamie Glazov's Fan Page on Facebook.