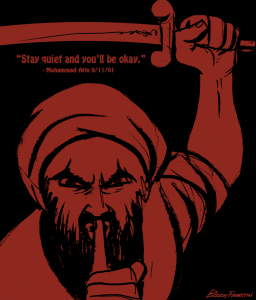 This article is written by Dom the Conservative.
Visit MadWorldNews.com.
Unlike the successfully bloody conquests of the Ottoman Empire, Islam has found a way to infiltrate the West without even lifting a blade to the infidels' throats, and we are ignorantly embracing the death of our culture and freedom with open, tolerant arms.
Islamic immigration has effectively silenced the righteous opposition through administering our own poison — political correctness. Fortunately, however, there are still a few patriots within our borders who are willing to risk their careers, freedom, and even their lives to expose this threat to Western democracy, and now they are speaking louder than ever.
After winning first place at the Muhammad Art Exibit in Garland, TX, ex-Muslim Bosch Fawstin has been the target of both praise and criticism. But, the artist and creator of anti-jihad comic strip hero "Pigman" is no stranger to Islamic intolerance. In fact, he lived it.
To continue reading this article, click here.