StopTheChristianGenocide.com has a petition to Secretary of State John Kerry in order to get America to end its silence about the genocide against Christians and other minority groups in Iraq and Syria. Please sign this petition before March 17 and share far and wide.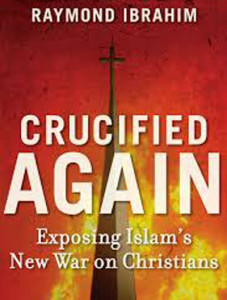 And make sure to watch the Glazov Gang's special episode with Raymond Ibrahim, the Freedom Center's Shillman Fellow and the author of  "Crucified Again: Exposing Islam's New War on Christians."
Raymond shed light on Islam's New War on Christians and the Obama administration's deafening silence.
Don't miss it:
Also tune in to the Glazov Gang's special edition: Is it "Christian" for Christians to Defend Themselves from Islamic Jihad?, which focused on what the New Testament really says about the ethical nature of Christian self-defense [Starts at the 12:40 mark].

The program was joined by Dr. Peter Hammond, a Christian missionary who is the Founder of Frontline Fellowship and Louis Lionheart, a Christian preacher who is the Founder of TruthDefenders.com.
[Important Announcement: The Glazov Gang is a fan-generated program and its life extension is growing short. Please donate through our Pay Pal account to help us keep going. We so appreciate it.]