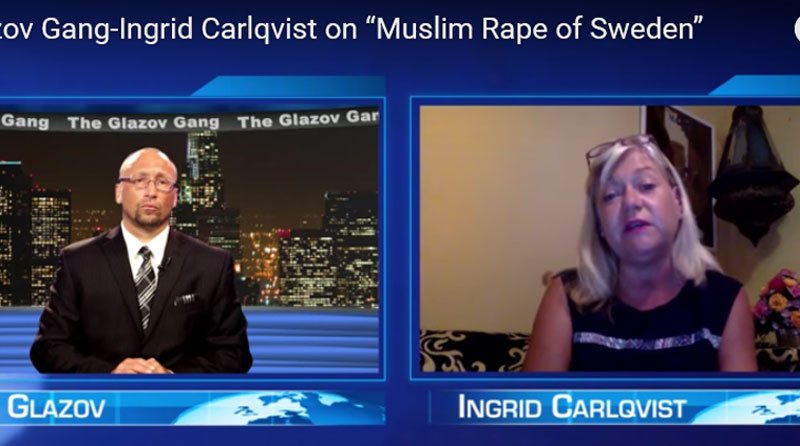 Subscribe to the Glazov Gang's YouTube Channel.
Please donate through our Pay Pal account or GoFundMe campaign to help The Glazov Gang keep going. Thank you!
The media is now mocking President Trump for highlighting trouble in Sweden, and specifically for him using the words "last night" in referring to what, at first, seemed like a reference to a specific incident in that country. But as the president himself later explained, he was referring to an actual, accurate news report that was broadcast the night before on Fox News about Muslim immigration to Sweden. On Friday night, Tucker Carlson interviewed documentarian Ami Horowitz about his upcoming film about the surge in rape and violence that has accompanied the increase of immigration to Sweden.
While the president could have used better technical wording to make his point, his overall thesis was correct. There may not have been some single huge news-breaking incident the night before in Sweden, but Trump was referring to a news program that demonstrated that there is something very horrible happening in Sweden — and not just "last night", but every night.
In response to President Trump's legitimate reference to trouble in Sweden, and the media's illegitimate  mockery of him over it, The Glazov Gang is running its special episode with journalist and author Ingrid Carlqvist on the Muslim Rape of Sweden, which unveils the horror Sweden is now facing.
Don't miss it!
And on this issue, make sure to also watch Ingrid discuss How Sweden Became Absurdistan and Sweden: On the Verge of Collapse. The two videos are below:
How Sweden Became Absurdistan:
Sweden: On the Verge of Collapse:
Subscribe to our YouTube Channel and to Jamie Glazov Productions. Also LIKE us on Facebook and LIKE Jamie's FB Fan Page.