[Order Jamie Glazov's new book: Jihadist Psychopath: How He Is Charming, Seducing, and Devouring Us.]
On Tuesday,  April 23, Twitter notified Jamie Glazov that it had received a complaint about his tweet on April 21st about the world's response to the Sri Lanka Jihad Massacre. Jamie wrote about his confusion about the discrepancy in the international community's reaction to the Sri Lanka Jihad in comparison to how it had reacted to the shootings on mosques in Christchurch, New Zealand. He wrote:
With this tragic Sri Lanka Jihad Massacre having been perpetrated, I am bewildered: Where are all Muslim leaders, and all leaders, wearing the Cross and saying the "Our Father" and "Hail Mary" aloud in public? Or it's only when Islam is a target that everyone dons the Hijab? 
Twitter soon informed Jamie that a complaint had been made about his tweet: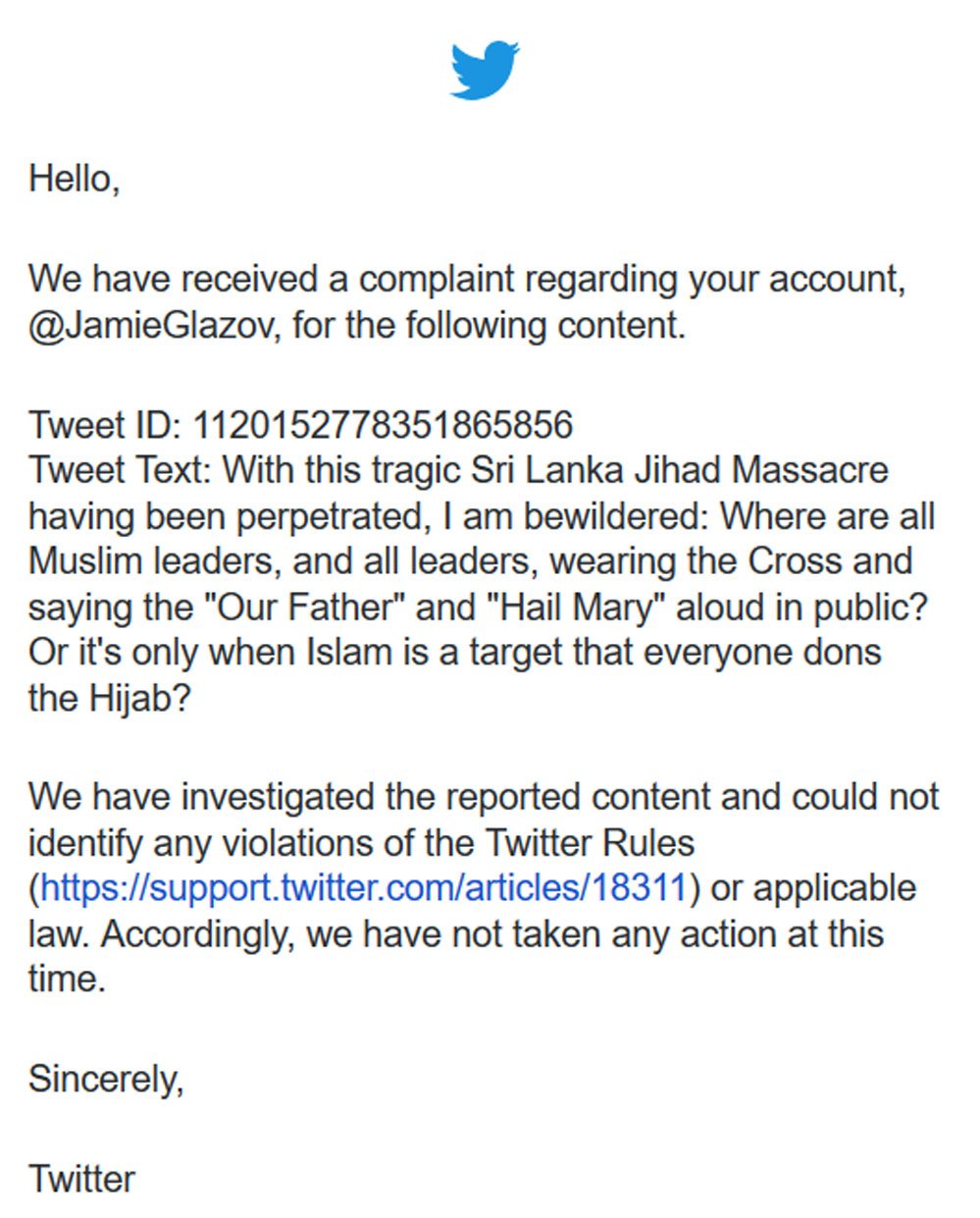 It is commendable that Twitter, this time, took Jamie's side — as opposed to an earlier occasion where it had suspended him for his  apparent "violation" of "Twitter Rules" by his referencing of several Islamic religious texts.  And in another bizarre and Kafkaesque episode, Twitter warned Jamie that his new book, Jihadist Psychopath, violated Pakistan's Blasphemy Law. Why Twitter is faithfully doing Pakistan's Sharia bidding remains an issue many are waiting for Twitter to explain.
In any case, in this new development, the question remains: What is the complaint against Jamie's tweet exactly based on? Is there something wrong with pointing out that many leaders and members of the international community were donning the Hijab after the Christchurch mosque shootings? It is simply a fact that they were.
And so, what exactly is wrong with wondering where all the leaders and people are (Muslim and non-Muslim alike) who are verbalizing  the "Our Father" and "Hail Mary" aloud in public — as an expression of solidarity with Christians after the  Sri Lanka Jihad Massacre?
What exactly is wrong with asking this question?
In his recent video, after all, Paul Joseph Watson has demonstrated the undeniable facts about the blatant double standards in the international community's reaction to both attacks.
Once again, it is encouraging that, on this occasion, Twitter has not done Sharia's bidding. But it is still extremely disturbing that Twitter  is taking "complaints" of this tyrannical kind seriously — and that it is actually informing the "potential" thought offenders about them. And it is also extremely worrying that Twitter is still enforcing Islamic blasphemy laws.
All people who value free speech should contact Twitter and encourage this leading social media platform to value free speech and reject all totalitarian efforts to silence it.  Let @TwitterSupport and @Twitter know your thoughts — and tweet CEO Jack Dorsey: @Jack Dorsey. You can also contact Twitter on their website at: help.twitter.com.
Thank you all so much for your commitment to freedom and liberty!